Models Main Page

Legend Original
Legend Toys 'R US
ProStreet
VeloCite 24V
EnForcer
Gromitz

Original Special!

The Mongoose Gromitz BikeBoard™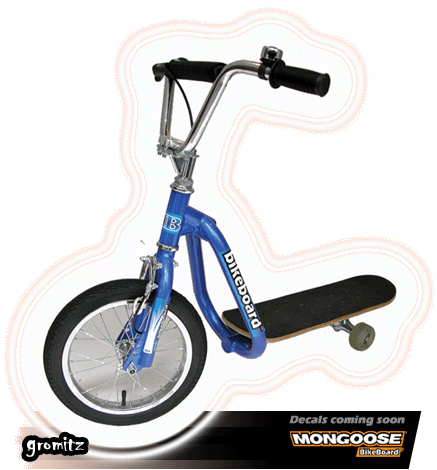 The Gromitz is designed for younger kids with big aspirations. This Mongoose BikeBoard™ has the same high durability design as his bigger brothers.
The Gromitz model is perfect for kids aged 4 to 8. Look at Noah (aged 5) in our video clip, he's really showing some serious carves after riding the Mongoose BikeBoard™ for about 30 minutes.

The Gromitz helps in the overall development of balancing skills that are helpful in many sports and essential to all board sports. When it is time to graduate to the larger Original model, you will be an experienced Mongoose BikeBoard™ rider and have a head start mastering other board sports! Many younger kids that are unable to ride a skateboard or two-wheel bicycle can ride The Original Mongoose BikeBoard™.

Specifications


Custom tubular Junior BikeBoard™ frame with 10" halo
14" 28 steel spoke polished chrome rim
Adjustable hand pull front brake lever
22" long , layered "mini" wood skateboard with no-slip-grip tape
5.5" wide king pin style polished aluminum truck
Custom colored polyurethane super duty skate wheel
Custom metallic multi layer baked enamel paint with clear gloss coating

Gromitz Photos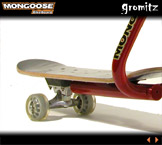 BikeBoard™ Video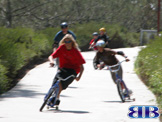 Watch Brian Conley with 4 other riders in this exciting clip...



3D Spin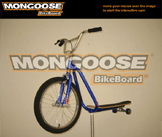 Take a Mongoose BikeBoard™ for a spin...



The Box!


These are the only parts for assembly.


Desktop Downloads


Pick one of many desktop backgrounds...



Newsletter

Sign up for our Newsletter and stay up to date on Mongoose BikeBoard™ Models and Events.