News Main Page

Press Releases
Reviews

News :: Reviews

Tom Boyd Extreme off-road and Mongoose BikeBoard™ rider has just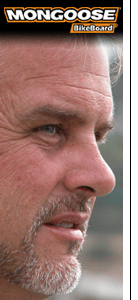 completed the 5th Petersen's 4 wheel & off-road Ultimate Adventure. Tom has been fortunate to be a part of all five Ultimate Adventures in his Bronco named Krawler. Krawler has been featured in multiple off-road rags along with 3 separate covers of Petersen's Wheel & Off-road. Look for pictures of Tom, at 40, getting big air on the Mongoose BikeBoard™ along with his crazy antics behind the wheel of Krawler.
Newsletter

Sign up for our Newsletter and stay up to date on Mongoose BikeBoard™ Models and Events.





Desktop Downloads


Pick one of many desktop backgrounds...