Models Main Page

Legend
Legend Toys 'R US
ProStreet
VeloCite 24V
EnForcer
Gromitz

Original Special!

The Legend Mongoose BikeBoard™




The Legend is designed with every kid in mind.

The Mongoose BikeBoard™ gives the instant feeling of carving the wild waves or cutting down a snow-covered mountain. It doesn't matter if you are new to the Mongoose BikeBoard™ and Boarding Sports or a seasoned pro, the Legend Mongoose BikeBoard™ offers all who ride it a new and exciting mode of transportation and sport.

This Mongoose BikeBoard™ has been designed for years of fun!

Specifications


Custom tubular Mongoose BikeBoard™ frame with 10" halo
20" 36 steel spoke polished chrome rim with sport street tire with foot pegs
Heavy Duty aluminum clam shell braking assembly with adjustable 2 finger pull front brake lever
1 inch threaded billet aluminum neck clamp
BMX style, 2 bar reinforced heavy duty steel handlebars
28" skateboard deck with 7" wide king pin style polished aluminum truck
Colored polyurethane super duty skate wheel with ABEC 5 wheel bearings
Custom metallic multi layer baked enamel paint with clear gloss coating
Legend Photos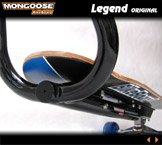 PDF Sell Sheet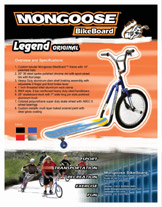 BikeBoard™ Video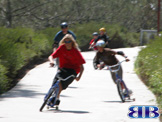 Watch Brian Conley with 4 other riders in this exciting clip...



3D Spin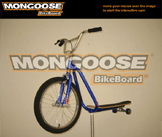 Take a Mongoose BikeBoard™ for a spin...



Desktop Downloads


Pick one of many desktop backgrounds...



Newsletter

Sign up for our Newsletter and stay up to date on Mongoose BikeBoard™ Models and Events.